Perception of authenticity is a key factor that drives shoppers to purchase after reading online reviews on retailer websites. They derive this perception from the following four factors:
Buyer Verification
Volme of Reviews
Share of positive to negative reviews, and
Original source of reviews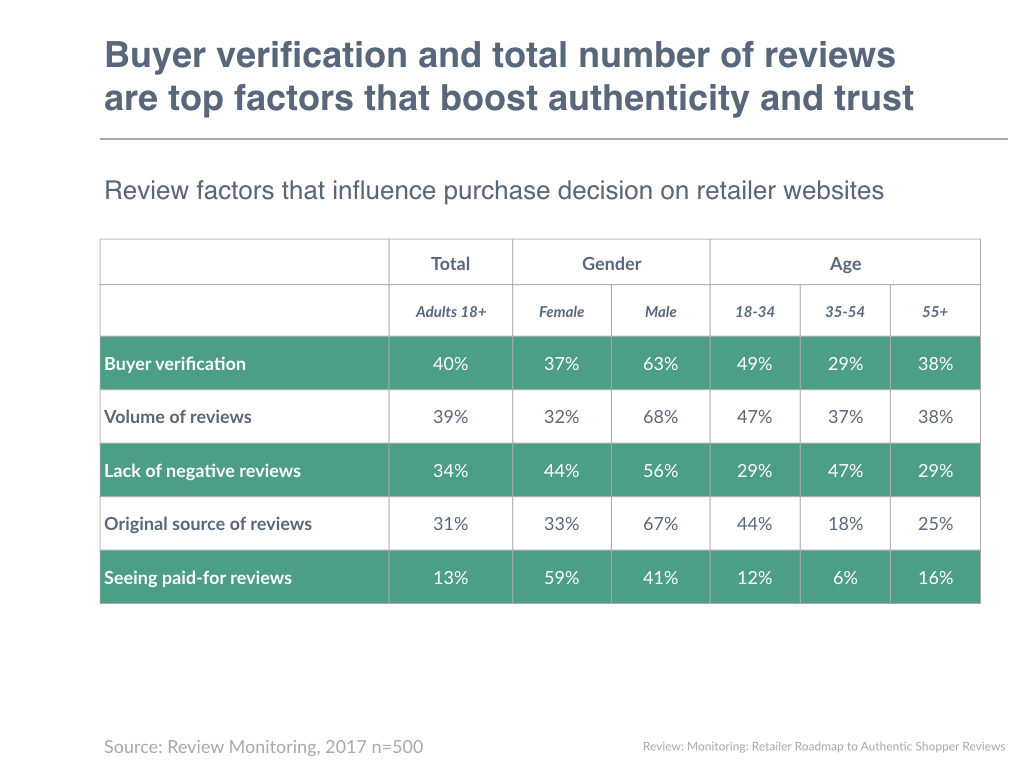 1. Buyer Verification
Two in five online shoppers are influenced to buy from retailers after seeing buyer verification in online reviews. Buyer verification is largely seen as a stamp of transparency. Seeing buyer verification on reviews is a clear sign from retailer to shopper that there is nothing to hide. Amazon has long capitalised on this to earn shopper trust encouraging them to buy directly from Amazon.
2. Volume of Reviews
The number of reviews also plays an important role with a similar proportion (39%) saying it influences their decision to buy from the website. When sites lack online reviews, it loses credibility with shoppers making it difficult for shoppers to move ahead in their path to purchase. Many retailers have turned to syndication to boost their review volume in an attempt to gain legitimacy. But as more shoppers become aware of syndicated reviews they are likely to lose trust in retailer websites.
3. Share of positive to negative reviews
A potential risk with syndication is the lack of balance in positive and negative reviews. More than a third (34%) of shoppers get suspicious when they see a lack of negative reviews on retailer websites which makes them less likely to buy from the website. This is relevant for brands as well as retailers who might want to remove negative reviews from their website in hopes of boosting consumer confidence. The goal should be generate more positive reviews that can drown out the negative ones making them insignificant.
4. Original source of reviews
A more direct risk due to syndication comes from shoppers being put off when they see reviews from other websites. More than 3 in 10 (31%) shoppers say that source of online reviews influence their decision to buy from the retailer. This more than doubles among male shoppers with 67% saying they are more likely to buy if the review originated on the website.
The most natural path for retailers looking to increase the authenticity of reviews on their website is to generate original reviews from shoppers using their websites and apps across all devices throughout the path to purchase.