Shoppers no longer need to leave a written product review when offering their opinions on Amazon. Simple star ratings will do.
Since September 2019, Amazon has been testing this new approach and finally committed to it by changing the wording on the website from "reviews" to "ratings".  The overall number of stars a product receives now includes traditional reviews with accompanying text, images or video along with simple star ratings that include no further information.
For instance, a product might be shown to currently have 2,150 customer reviews and 2,600 customer ratings.  So, in this case, 450 consumers only rated the product without leaving a review.  The number of stars "ratings only" are averaged in with those that have also left a review.
Amazon made this change in order to encourage more shoppers to share their opinions about the products they've purchased. Many customers have wanted to rate a product, but have not wanted to take the time to write a review.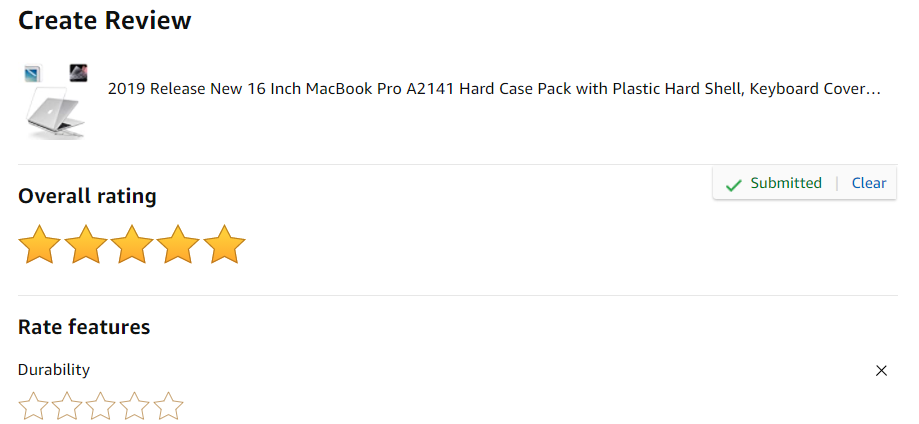 Before this change, Amazon required a title and written review of any length in order for the customer to share opinion based on the number of stars selected. Now, all it takes is a single click. The new rating system will substantially increase the number of ratings a product receives, since it is far faster and easier than writing a review. We will likely see the number of ratings for many products skyrocket over the course of the next several months.
As most of us know, the Amazon product ratings system is set up for a 1 to 5-star rating, with 1 being the worst and 5 the best.  Anyone can leave a rating, with or without a purchase. Only those ratings from verified purchases contribute to the product's overall star rating average.
This new Amazon rating system allows the purchaser to add a written review at a later time.
To sell a product on Amazon the item needs reviews.  Without reviews and star ratings it's almost impossible to attract buyers.  Without buyers there's no one to leave a review. Brands need reviews to build any kind of equity.  Ratings are the life-blood of selling on Amazon. Many different tactics (some better than others) are used to jumpstart reviews.  This new rating system could also help.  The easier it is for a customer to leave a product a 'vote of confidence' as represented by a 5-star rating, the more of those the ratings the product will receive and the more it will ultimately sell.
For years now, Amazon has been trying to deal with the issue of fake reviews (and ratings). This change makes that task even more difficult.  Written reviews help the consumer discover why the shopper left the rating they did and even if the review can be trusted.  The new "rating only' system leaves shoppers guessing about both why the rating was left and the authenticity of the opinion. A 1-star rating says nothing specific about the product or situation.  A shopper may leave a 1-star rating because the delivery person left the package on their lawn or because the product itself was defective.  With simplified ratings only, there is no way to tell.
The new system may make the overall ratings less skewed toward unhappy consumers who tend to write more reviews.  However, it doesn't make the product reviews any more trustworthy.  In fact, it may make them less relevant and less trustworthy.