#4 of 5: Product reviews make Amazon the preferred channel to purchase products
Among shoppers who visit sites other than Amazon at the start of their path to purchase, 9 in 10 stop by the e-commerce retailer website at some point during the journey to read online reviews. In comparison less than half (45%) visit Walmart during their path to purchase to read reviews. And just over 1 in 4 (27%) visit other e-commerce websites like Best Buy and Target looking for product reviews as part of their research.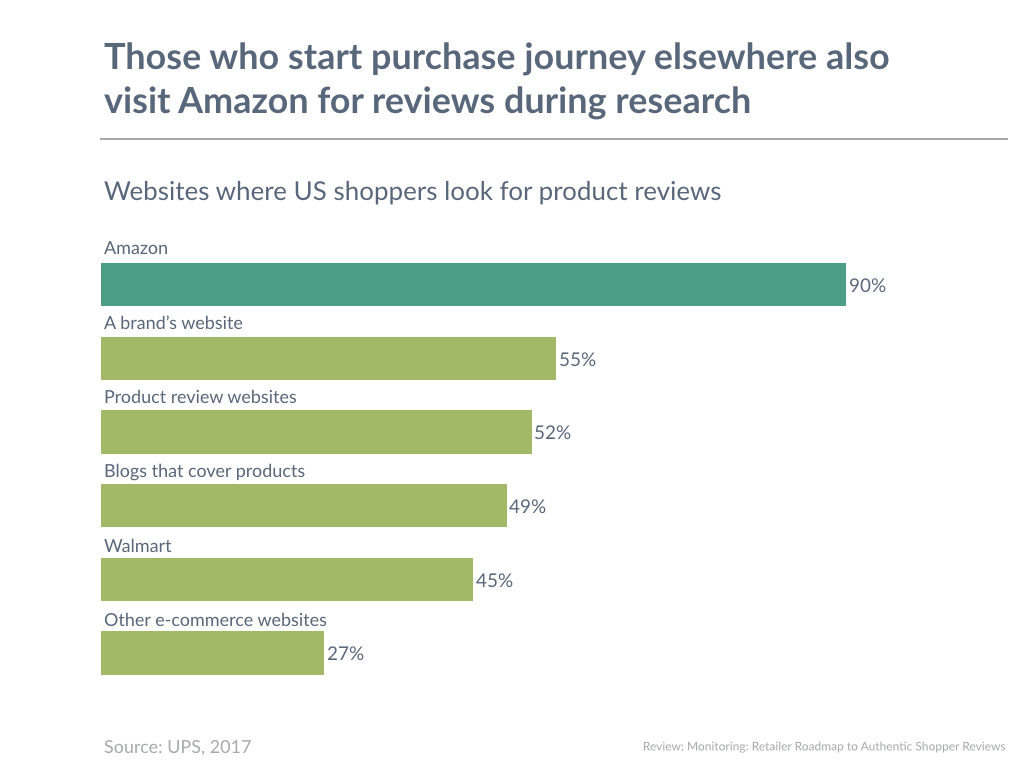 Online shoppers looking for reviews are more likely to visit brand websites (55%), consumer review sites (52%), and blogs (49%) compared to retailer websites. Retailers should focus on online review for two key reasons. First, shopper trust in online reviews as a reliable source of information has been increasing year on year. Second, product reviews now have greater influence on online purchase decision compared to word of mouth.
In 2016, almost 1 in 5 (18%) online shopper said they always trust online reviews – up from 4% in 2014. Another, 66% trust online reviews with caveats such as authenticity (27%), volume of reviews (20%), and nature of business (19%). Amazon is the leader in meeting the first two criteria. The site establishes authenticity via reviews from verified buyers. It has garnered a vast volume of reviews across both positive and negative sentiments. As a result Amazon is the default choice when shoppers look for product reviews.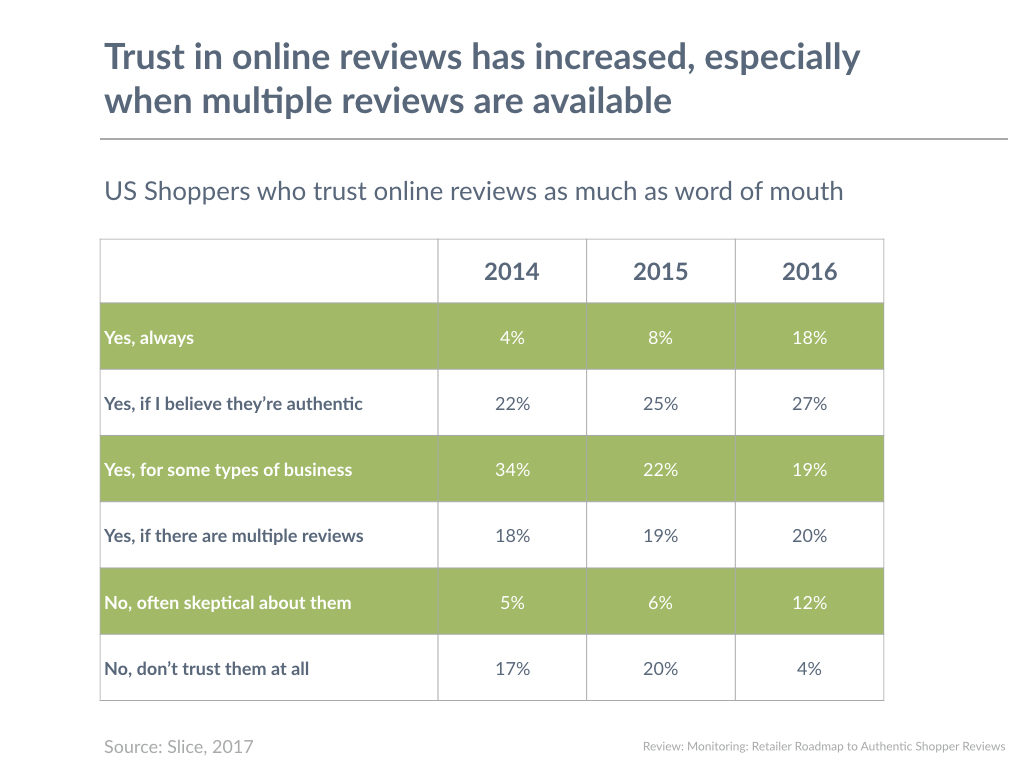 But, reading product reviews is more than just a pit-stop in the path to purchase. It is a key moment of truth that can shape the final purchase decision. This is especially true when it comes to reading reviews on Amazon. Almost 1 in 2 (49%) online shoppers who purchased a product say that reviews on Amazon was the top factor that influenced their decision. This is well ahead of offline word of mouth (16%) and price comparison on retail websites (11%). Less than 1 in 10 (7%) online shoppers say reviews on retailer websites was the primary source of influence behind their purchase decision.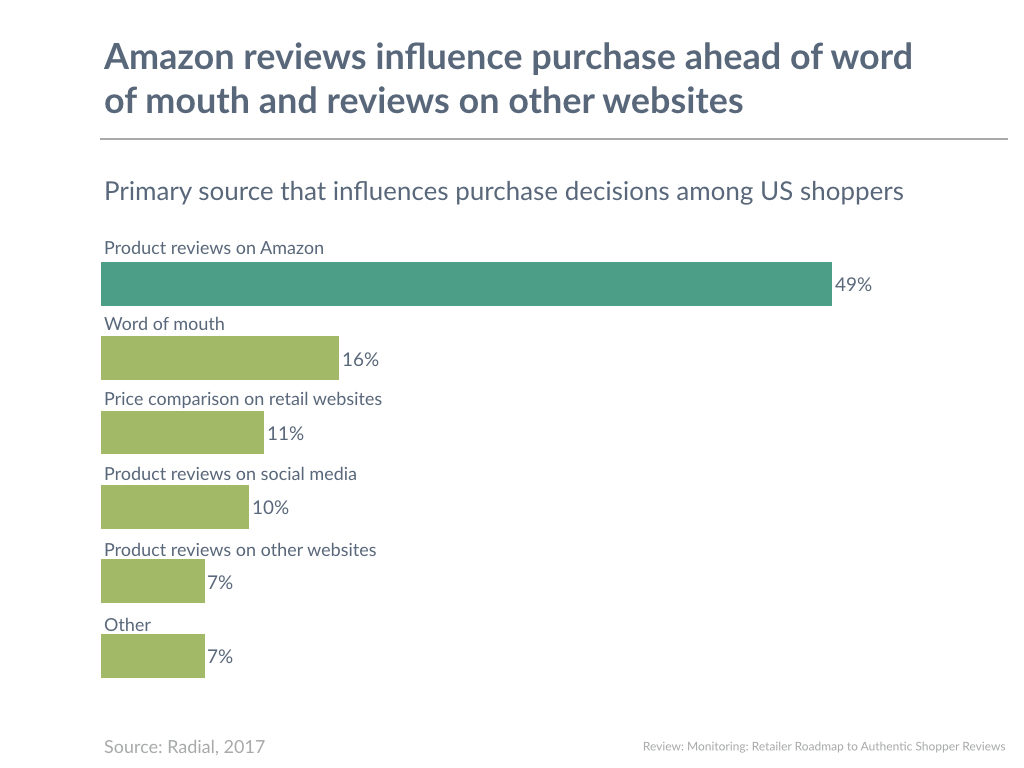 The dual effect of greater trust in and influence of Amazon reviews are the key drivers behind Amazon's dominance over retailers like Walmart and Best Buy. Amazon is not only the first and most widely used site for product research, but it is also the preferred channel to buy products. More than 2 in 3 (67%) online shoppers buy from Amazon compared to only 18% who prefer to buy from other retailer websites.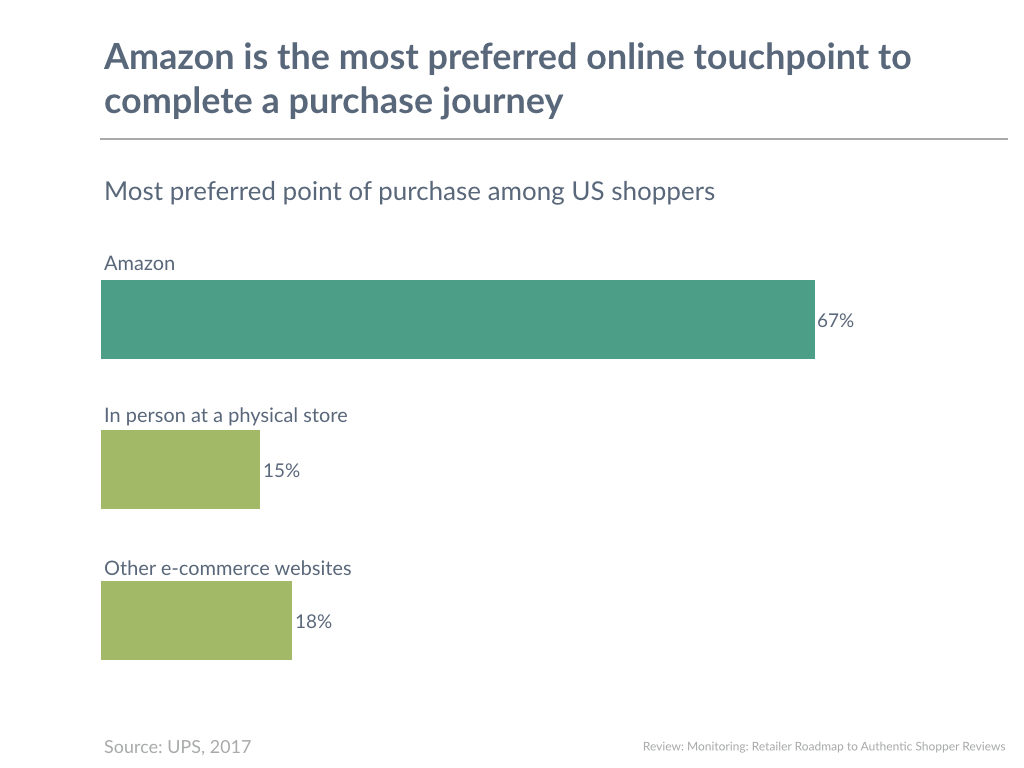 Amazon is not only attracting most of the online shoppers, but it is also using its Prime membership program to create repeat customers out of heavy online buyers i.e. those who purchase the most online. Three in ten Prime members buy from Amazon on a weekly basis while more than half (56%) buy once every two weeks.