Quick takeaway: Shoppers read multiple online reviews with opposing viewpoints while on-the-go
Data Highlights
Nearly four in five (77%) shoppers read a mix of positive and negative reviews to make a purchase decision
Men (75%) and women (79%) read both positive and negative reviews during product research
Seniors (81%) are most likely to read a mix of positive and negative reviews than millennials (73%) and boomers (76%)
Nearly half of shoppers (49%) read up to 3 reviews before making a purchase decision
Brands need at least six reviews to cover 100% of shoppers who read reviews to make a purchase decision
More than three in four (78%) shoppers use smartphones while shopping inside a store
Just under half (46%) use smartphones inside a store to read online product reviews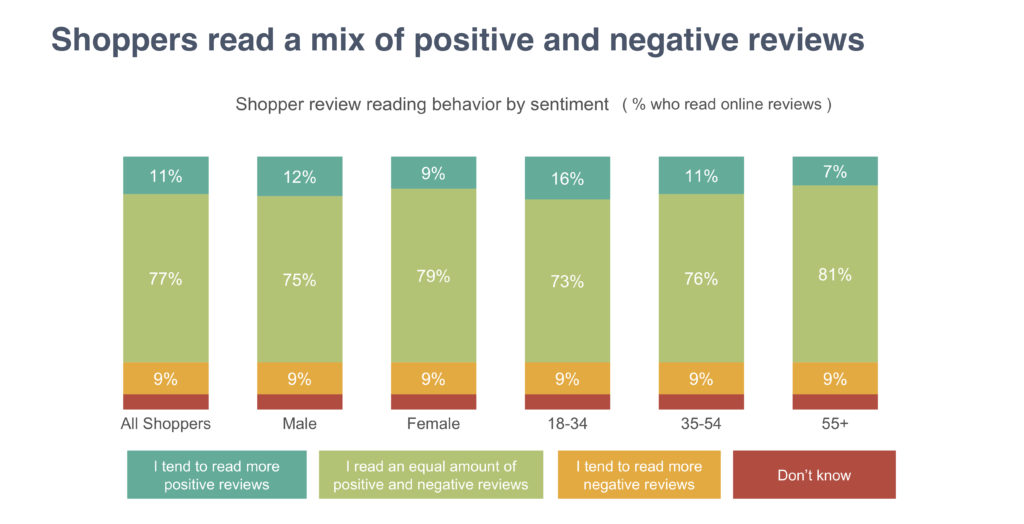 Shoppers read both positive and negative reviews to get a balanced picture of how previous shoppers have experienced the product. Reading reviews is after all part of the product research stage where shoppers want to get as much information on the product as possible.  Nearly four in five (77%) shoppers read a mix of positive and negative reviews before making a purchase decision.
Reading positive and negative reviews is common across gender and age groups. Both men (75%) and women (79%) read positive and negative reviews during product research. Seniors (81%) are the most likely to read a mix of positive and negative reviews followed by boomers (76%) and millennials (73%). Brands and retailers will do well if they do not remove negative reviews in fear that it could dissuade potential buyers.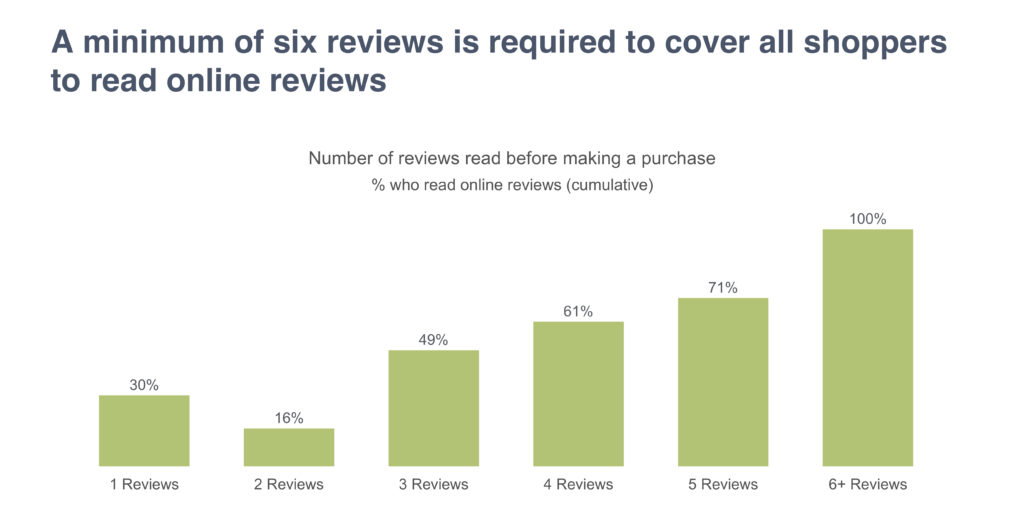 Shoppers not only read reviews across both sentiments, but they read multiple reviews to form a holistic opinion of a product or brand before buying it. Nearly half of shoppers (49%) read up to 3 reviews before making a purchase decision. Brands need at least six reviews to cover 100% of shoppers who read reviews to make a purchase decision. It is imperative that brands follow-up new buyers encouraging them to leave an honest review online.
Increasingly shoppers read reviews on-the-go using their smartphones while shopping inside a physical store. More than three in four (78%) shoppers use smartphones while shopping inside a store. Among them, just under half (46%) use smartphones in-store to read online product reviews. Brands and retailers need to make there product reviews accessible via mobile devices by either making their websites mobile friendly or serving reviews through their mobile app.
*for additional details on sources and follow up information see our full report – The State Of Online Reviews Among U.S. Shoppers