#2 of 5: Amazon provides a positive shopper experience from start to finish
Amazon's dominance is driven by its unparalleled shopping experience. More than half (56%) of online shoppers say Amazon offers a positive experience compared to 3 in 10 shoppers who say the same about retailer websites. This positive shopping experience extends from start to end of shopper path to purchase.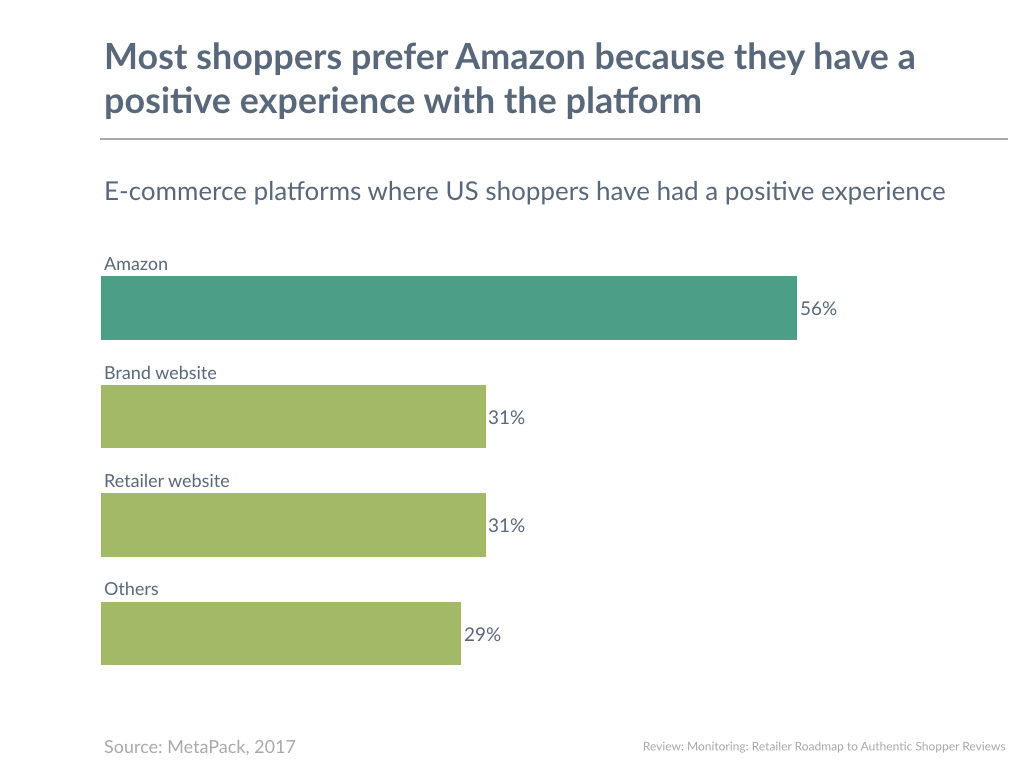 Shopper path to purchase can be broadly divided into three stages:
Research,
Purchase, and
Post-Purchase
In the Research stage shoppers discover new brands, look over product features, compare prices and read reviews. Retailer websites, brand websites, social media, and product review sites are key touch points among shoppers conducting research. The goal is to collect as much information as possible to make an informed purchase decision. At the end of Research stage, shoppers make a decision.
The Purchase stage is where shoppers complete the transaction. This could happen online or offline. At times new offers and discovery of alternative options at point of purchase can lead to further research. Availability of payment methods and delivery options also have an impact on shopper decision to purchase.
The final stage is the Post-Purchase stage where shoppers use the product and share their experience with others either online of offline. Increasingly shoppers are also likely to write online reviews on retailer websites, brand websites, social media or even personal blogs. Other actions include contacting the brand or retailer for customer support, return or refund.