Many Amazon sellers have used their commenting feature to respond to reviews left about their products.
Recently, however, Amazon has announced that they will be retiring this feature; merchants will no longer be able to respond directly to reviews on their product pages. According to emails sent to Amazon merchants (confirmed by the Business Insider), the reason for this move is that the feature is "rarely used" in practice. This may be due in part to changes that Amazon previously made in mobile and desktop formatting, making it less intuitive to view replies to and comments on different customer reviews.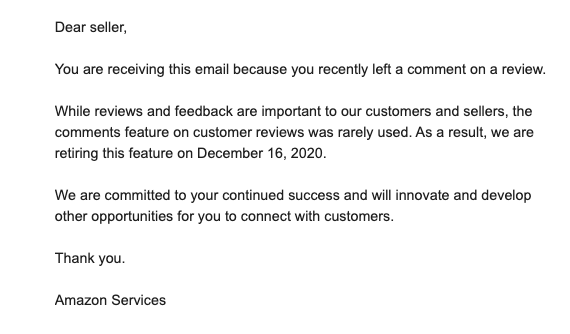 The change will affect merchants who work through Amazon's Seller and Vendor Central accounts.  Amazon Vendor Central is used by manufacturers and distributors.  Seller Central is an online platform that allows independent businesses and individuals to market and sell products, engage with customers, and use Amazon distribution for delivery. According to Amazon, over half of all units sold from Amazon stores come from independent sellers. 

Customers can still use the "question" section to ask about aspects of their purchases; sellers can respond from there, and other customers can contribute to the discussion as well. In some cases, this may be a workable solution for issues with customers who left negative feedback after using a product in the wrong way. 
Unfortunately, this move will likely have a negative impact on business owners' ability to engage with customers, correct misperceptions, and assuage concerns about their products.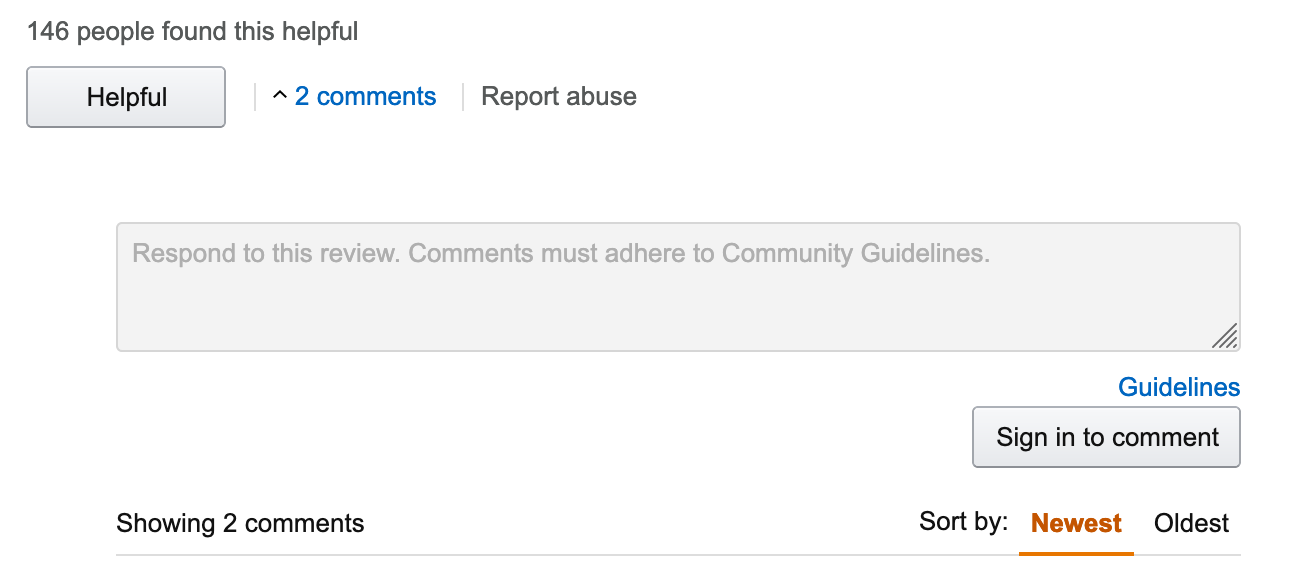 Sellers and Vendors have traditionally taken advantage of the commenting feature to address customers' concerns and help make sure they're still satisfied with their overall experience. 
Customer engagement in general is highly important for successful sales strategy. According to research by Bazaarvoice, brands are able to use even negative feedback to create net positive results on different metrics. Their Conversation Index survey found that 70% of survey respondents had changed their evaluation of a brand based on online consumer reviews: 41% felt that the brand cared about customers, 35% that it had great customer service, and 22% that it was trustworthy. 
Bazaarvoice also found that consumers who read direct brand responses to negative reviews were significantly more likely to intend to purchase an item.
Consumers who read a review response that contained an explanation about how the purchaser had misused the product showed a 186% higher purchase intent and a 157% higher product sentiment than those in a control group, who read negative responses with no input from sellers. Likewise, consumers who read review responses offering to refund, upgrade, or exchange products, and review responses that offered helpful next steps (like calling customer service) reported 88-92% higher intent to purchase and 88-89% higher product sentiment. 
In other words, when the business owner can show their side of the story in review comments, consumers are able to make more fully informed choices about their purchases.