Summary
Review Monitoring's word tree feature can highlight hidden product features customers value. This helps marketers better position the product with relatable messaging.

Introduction
Google Trends results for 'Paper Shredder' show that people have regularly searched the term in the last five years. Online interest in paper shredders has remained consistently over half its peak popularity.
Paper shredder peak occurred in early October 2018 when the famous artist Banksy secretly installed a shredder into the frame of one of his best-known works, Girl With Balloon.
The piece was the final item in an auction at Sotheby's in London on Friday night and its sale price equalled the artist's previous auction record of £1.04m. The piece self-desctructed moments after it was sold.
Outside of the Banksy event, people searching Paper Shredders online are mostly looking to buy a new one – as suggested by Google's helpful and insightful section on questions they tend to ask.

Banksy might have built a shredder specifically for his art piece. The everyday consumer, however, is more focused on a cost effective and durable shredder that quite simply gets the job done. 
The potential paper shredder buyer's research process might start with Google. The logical next step is then to go over product reviews on blogs and e-commerce websites like Amazon and Best Buy.
Insight
Price and durability are primary product aspects that all paper shredder shoppers will research and consider. These primary aspects arise from a shopper's need for value i.e. get the best possible bang for their buck.
Once the primary need for value has been fulfilled, shoppers will shift focus towards the technical features such as type of shredder (cross cut vs strip cut – Banksy used a strip cut by the way), number of sheets shredded in a single pass, ability to shred more than paper etc. Consideration of technical features is a logical need driven by a shopper's need to confirm the product can get the job done.
Both primary and technical aspects are well understood by shoppers and brands. This can be seen in brand driven product description and shopper driven Q&As on e-commerce sites like Amazon. In the below screenshot, notice how the title covers type of cut (Cross Cut) while the bullet points in the description cover number of sheets (18) and the product's ability to shred CDs and credit cards.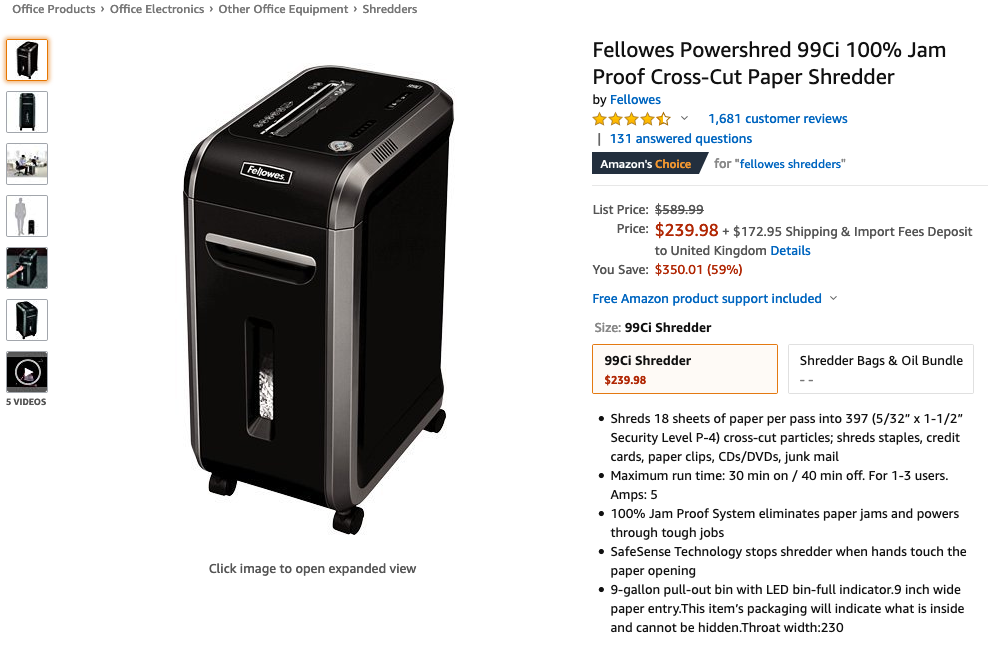 Having fulfilled their primary and technical needs, online shoppers usually look for a differentiator before making a purchase decision. Potential paper shredder buyers are likely to discover the differentiating factor while reading online product reviews. An example of such a differentiating feature is the quietness with which a paper shredder can get the job done.
We at Review Monitoring came across a similar discovery when mining through reviews for 'Fellowes PowerShred 99Ci 100% Jam Proof 17-Sheet Cross-Cut Shredder'.
This particular paper shredder had 1681 reviews on Amazon as of June 26, 2019. There are 341 mentions of 'quiet' across all reviews making it the most mentioned featured.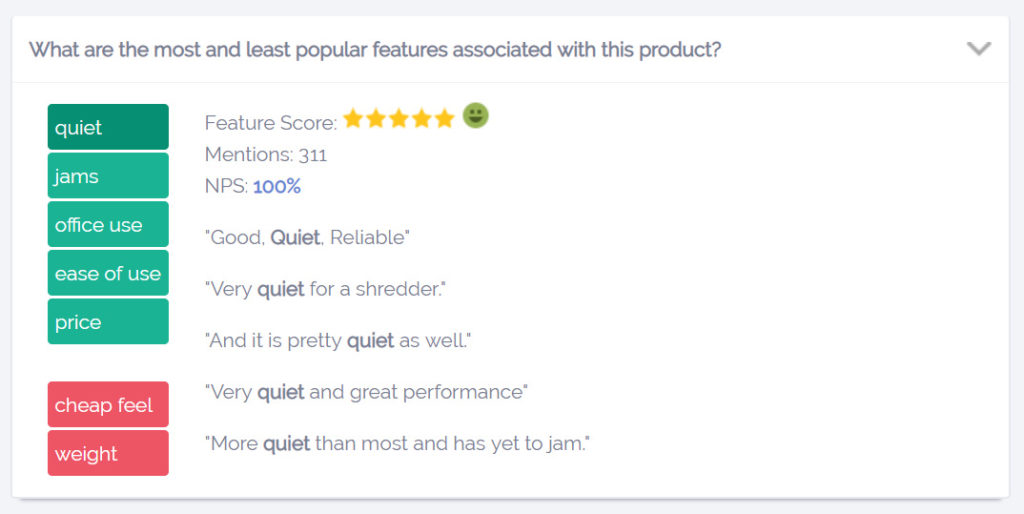 Going beyond word count, the Review Monitoring tool analyzed phrases to identify patterns around the 'quiet' keyword. These patterns were visualized as a word tree. 

The word tree for 'quiet' clearly shows positive sentiment around how impressed shoppers were with the shredder's ability to operate without making too much of a noise. Word trees go further in providing semantic drill down of keywords. In simpler terms, it allows us to filter a word tree by most frequent words occurring before or after the keyword. This enables us to analyze frequently occurring sentences around the 'quiet' keyword. For this product, we see that 'quiet' occurring prominently in sentences alongside other positive product descriptors like 'quick', 'powerful', 'great', and 'effortless'.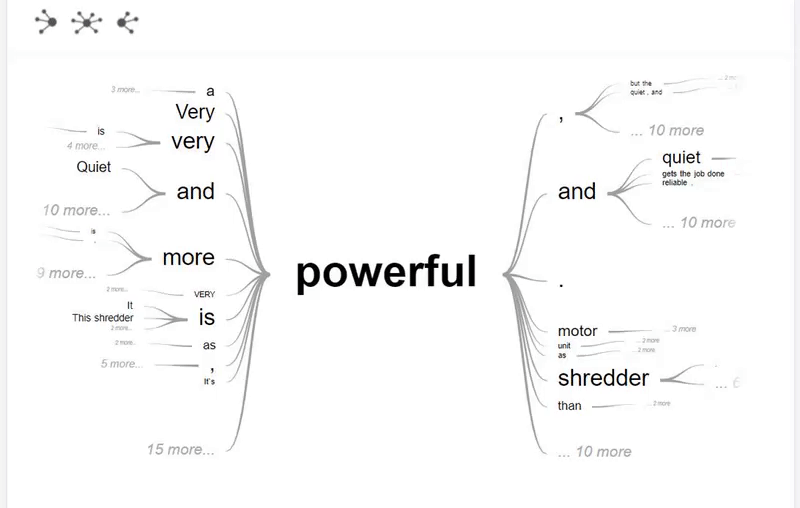 The analysis of frequently occurring sentences around 'quiet' also shows that shoppers tend to use shredders at homes or in a small office. This is a key insight to understand why this segment of paper shredder buyers value quietness. Using paper shredders in a non-enterprise environment brings up some different challenges – keeping down the noise while not having to build a separate room for the printer and shredder is one of them. 
Opportunity
It's quite interesting to learn that paper shredder customers value quietness. But what is an office equipment brand to do with this information?
The most obvious action from this finding is to add 'quietness' as a key selling feature in all marketing. This includes the product description page of e-commerce websites like Amazon in addition to other digital and marketing channels. Marketers should perceive the product page as the new packaging that attracts and converts customers. Going beyond search keywords, highlighting features that shoppers value is an efficient way to win their attention and deepen their consideration of the production.
The best way to market a paper shredder would be to position it as Banksy's first choice. It would generate a lot of buzz. It might even drive some conversion. But office equipment marketers are much better off talking about 'quietness' to attract, acquire and retain customers because it addresses a key customer need. Consequently, customers are likely to value the product for much longer. And as witnessed, they are also likely to review the product positively influencing more potential buyers to convert.
There is also clear action for product development here in developing 'quieter' paper shredders for the home-office and small business segment. Irrespective of the size and revenue potential of the segment, those looking to grow in this niche will have to satisfy this customer need if they want to win.