Summary
In this three-minute video, the Review Monitoring tool analyzes Amazon and other e-comm store reviews and customer questions to find the strengths and
weaknesses of a Cuisinart toaster oven.
Introduction
Customer reviews can be a wealth of information if you know how to use them – and if you have the right tools. That's where Review Monitoring comes in. This tool allows you to monitor and analyze customer reviews of a product across multiple websites, which can help you learn the strengths and weaknesses of your product. It can also give you ideas of relevant information to add to the product description to better position your product.
Let's look at how Review Monitoring can be used to analyze a Cuisinart convection toaster oven and air fryer. The product is generating feedback on multiple sites, including Amazon, Walmart, Home Depot, and Best Buy, giving the seller plenty of data to work with.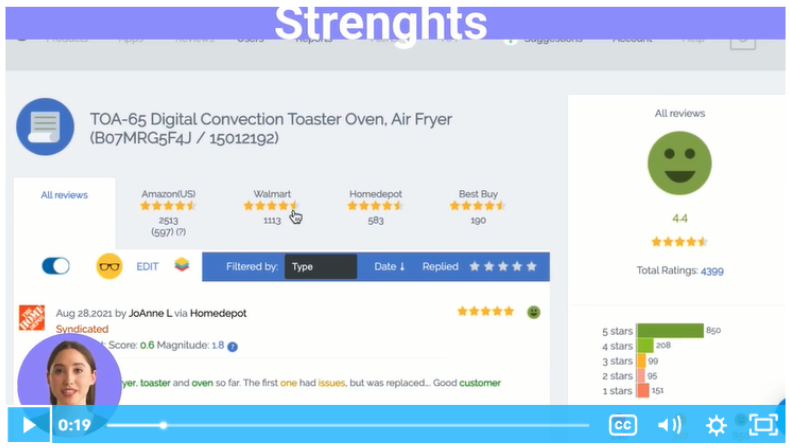 The word cloud feature shows which words appear most often in positive and negative reviews in the past year, including a question cloud showing the words that are commonly used in customers' questions. The positive word cloud includes words like "great," "love," and "easy," while the negative word cloud includes "noise," "loud," and "replacement."
Strengths
One of the most commonly used positive keywords is "easy," with 316 positive reviews (or 21%) in the past year mentioning how easy it is to use and clean the Cuisinart toaster oven/air fryer.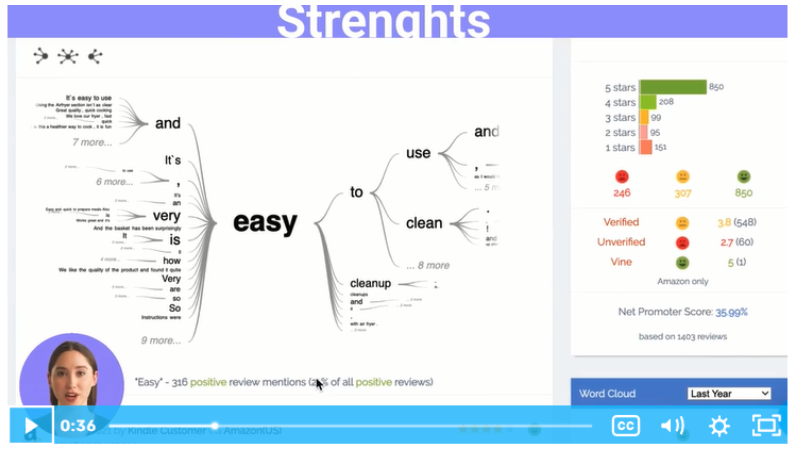 Using Review Monitoring's word tree, you can further explore what people wrote in their reviews by examining which sentences and phrases were used around the word "easy." For example, one review said it was "easy to use and it arrived on time."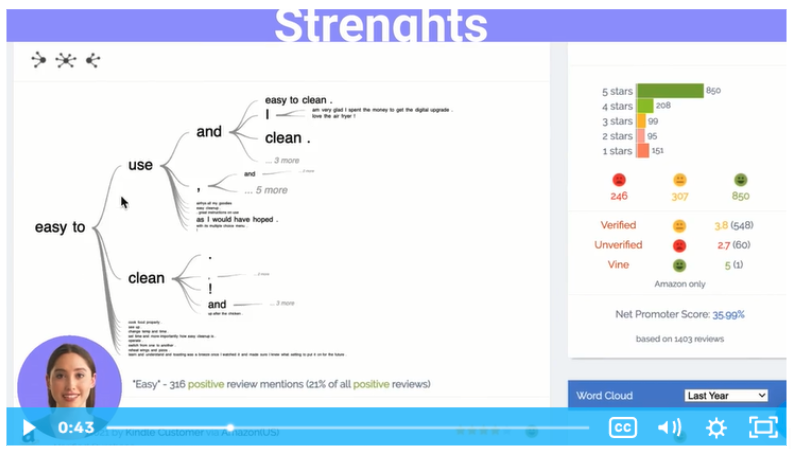 Weaknesses
You can also look at what customers are complaining about, or the weaknesses of the toaster oven. According to the word cloud, "noise" is a frequent complaint, contributing to about 21% of all negative reviews last year.
By looking at the semantic relationship of this keyword (the words and phrases that are used directly before or after it), it's easy to see that people are complaining that the product makes "loud," "horrible," and "grinding" noises.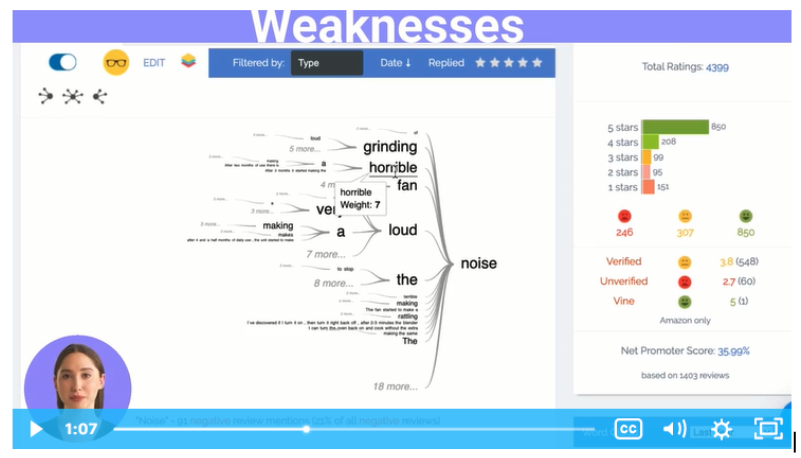 By clicking on "when" in the semantic relationship, you can identify the source of the noise. Several users said that it starts when you first turn on the toaster oven, and another says the noise happens when it's warming up. Someone else mentioned that the noise started after they'd had the toaster for about 11 months.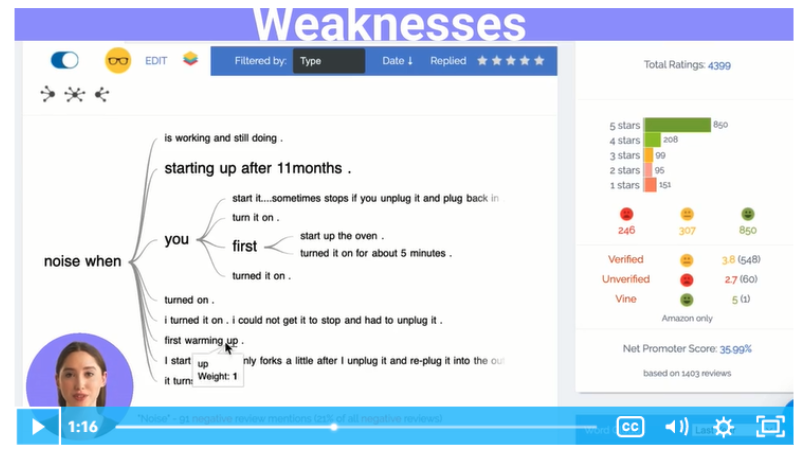 Questions
By looking at the question cloud, you can see what potential customers are asking before they decide whether or not to buy. These customers are trying to find out if the product meets their needs and expectations, and they're likely to wait to find out the answer before they buy. If brand agents don't respond to these questions, other customers may provide answers that might not be accurate, so as a brand, it's important to monitor and control this narrative.
From the question cloud, we can see that questions about dimensions are trending, especially questions about the interior dimensions of the toaster oven and the oven tray.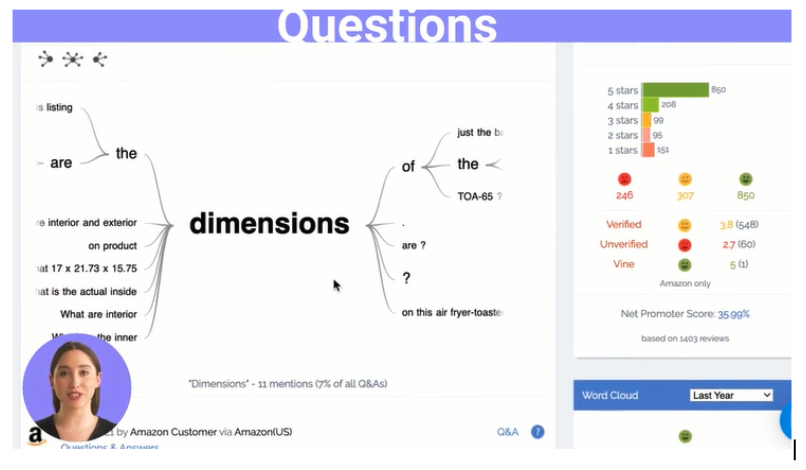 The Amazon listing doesn't state the interior dimensions, only the exterior dimensions, which is not enough for some customers to decide whether the product is right for them.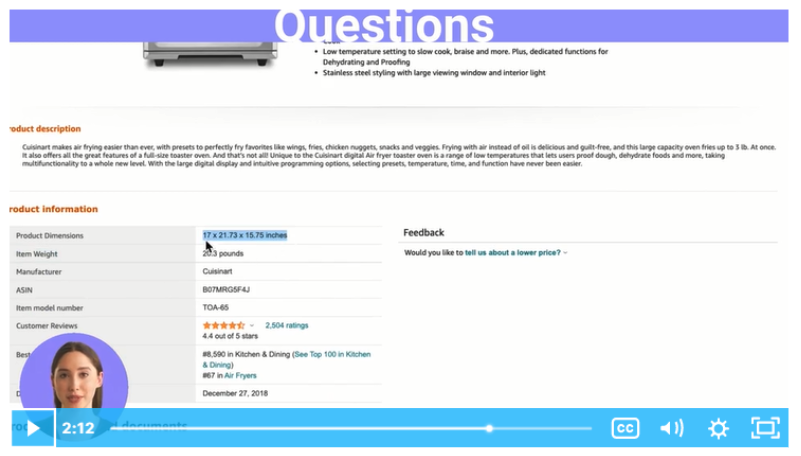 By using the Review Monitoring tool, the seller might conclude that they need to add the interior dimension to the product listing to give buyers more information, which will hopefully translate into more sales. Another way to do this would be to add an image showing interior and exterior dimensions.
Insights
There's more to product reviews than just striving for a five-star average. The Review Monitoring tool lets you spot what the product does well and what needs to be improved, as well as areas where customers might need more information before making the decision to purchase.
Positive reviews let you see which features customers like the most, which can be great ideas to highlight in your marketing and advertising. Negative reviews and questions provide opportunities to address these issues through marketing or product development.