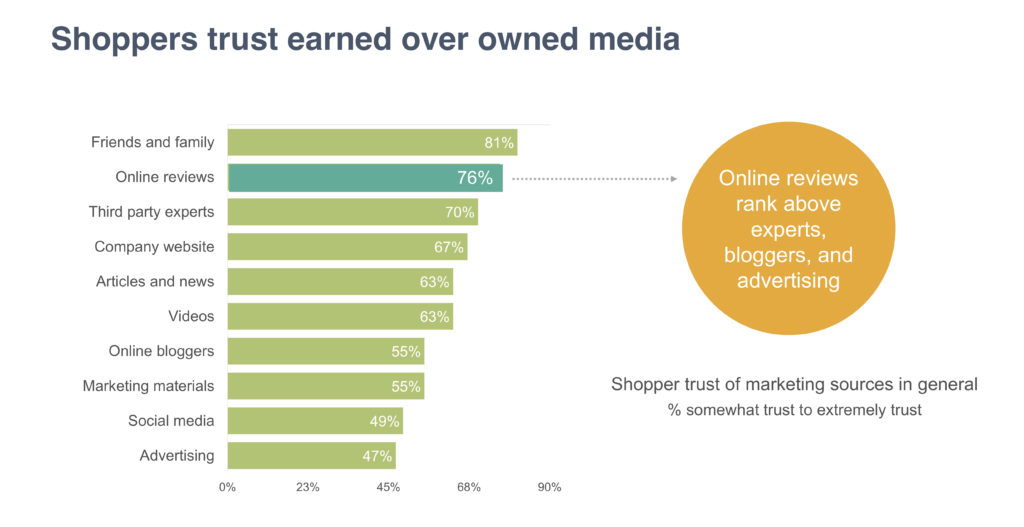 Data Highlights
Top 3 most trusted marketing channels are earned media – friends/family, online reviews, and independent experts
More than 4 in 5 (81%) shoppers trust word of mouth from friends and family
More than three-quarter of shoppers (76%) trust online reviews from other customers
Earned media channels like recommendations from friends and family and online reviews from other shoppers lead the pack of most trusted marketing sources among US shoppers. Paid media sources like advertising and marketing materials languish at the bottom of the heap.
More than four in five (81%) shoppers trust for of mouth from people they trust – friends and family. Peer recommendation has long been the most trusted source of product or brand information among shoppers. It continues to stay influential even in a digital age when people can easily search for information on-the-go.
The digital marketing source that comes close to imitating peer recommendation is online product reviews, not social media. Just over a three in four (76%) of shoppers trust online reviews from posted by previous customers compared to less than half (49%) who trust social media.
A greater trust in online reviews stems from in-depth nature of the content posted by customers who share their purchase and usage experience. Social media sites like Facebook, Twitter, and Instagram, on the other hand, are largely used to declare ownership with a view to gain social approval for the purchase decision.
Online review sections on retailer websites like Amazon and Best Buy also have a well established structure that allow shoppers to sort reviews by date, ratings, and relevance among others – a sense of control lacking in social media. The reviews, which sit at the bottom of the product page, act like a pop-up community connecting past and future buyers of a product.
Reviews from other shoppers is also more authentic than opinion from experts. Shoppers trust online reviews more than the opinion of third party experts (70%) and amatuer bloggers (55%) -who may or may not have been paid for the review.
Shoppers also trust online reviews more than paid media outlets such as advertising (47%), and marketing materials like direct mail (55%). There is, however, opportunity for brands to boost trust in information on company website (67%) by incorporating product reviews in their own websites instead of relying on online retailers.
*for additional details on sources and follow up information see our full report – The State Of Online Reviews Among U.S. Shoppers