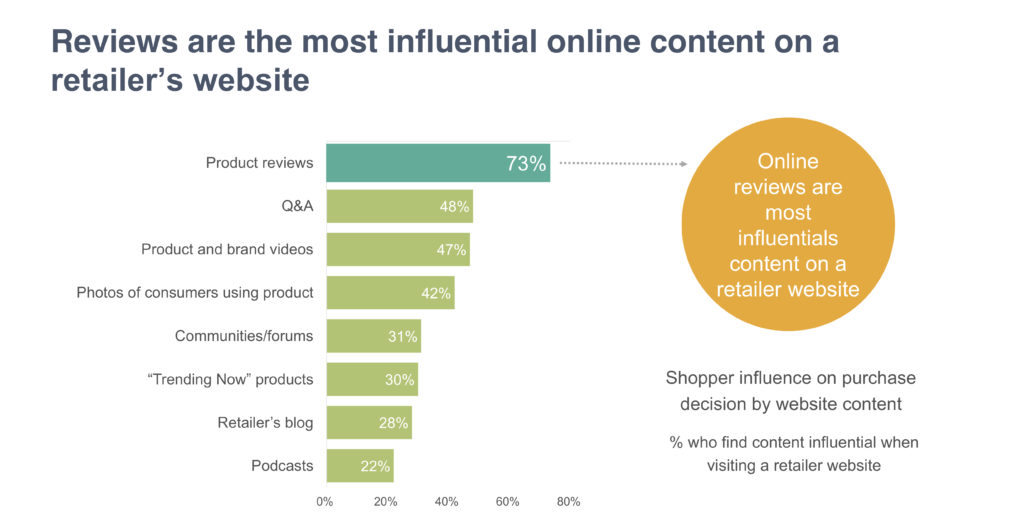 Data Highlights
Nearly three in four (73%) shoppers are influenced by product reviews posted online ahead of all other online content
Just under half of shoppers are influenced by online Q&A (48%) and videos about the product (47%)
Images of other customers using the product influences more than two in five (42%) shoppers
The importance of reviews is highlighted in the fact that they are the most effective online content that push a shopper into making a purchase decision.  A high degree of trust in online reviews followed by it's useful role in the purchase decision drives how effective reviews are in converting shoppers.
Nearly three in four (73%) shoppers are influenced by product reviews posted online ahead of all other online content. In comparison 22% found podcasts to be influential and 28% found content on retailer blogs as influential. Even the seemingly ubiquitous and popular feature – 'Trending now' section – influenced decision among 3 in 10 shoppers.
Most telling is the lack of influence from communities and forums (31%) which have long been the home of online discussions. It reflects a shift in US shoppers' online behavior where they are using discussions for everyday conversations while turning to online reviews to make a purchase decision. Communities and forums also  play a bigger role in customer service and churn reduction than in influencing customers and driving acquisition.
Just under half of shoppers are influenced by online Q&A (48%). Q&A allow potential buyers to clear any doubt they have before making a purchase. It is a natural next step for shoppers to engage in Q&A after reading through the reviews. Over time, we can expect the role of Q&A to grow and become as influential as online reviews.
Visual content also plays a key role in influencing purchase decision. Videos about the product (47%) and images of other customers using the product(42%) influenced shoppers to make a purchase decision.
The growing influence of visual content is a reflection of the online culture we live in today where most popular content type are videos, infographics and even the way we communicate is evolving from text based to emoji messaging. In the future we can expect product reviews that incorporate emoji, photos and videos.
*for additional details on sources and follow up information see our full report – The State Of Online Reviews Among U.S. Shoppers