#2 of 3: Shoppers read reviews to get value
Data Highlights
A third of shoppers go online to read reviews when products are $20 or below
Three in five (60%) shoppers read reviews for products that cost up to $50
All shoppers turn to online reviews when products cost more than $100
Half of women read reviews when product is $30 or less while half of men read reviews when product is $50 or less
More than four in five (82%) women read reviews for products $75 or less compared to only 69% of men
All men and women read product reviews when products cost more than $100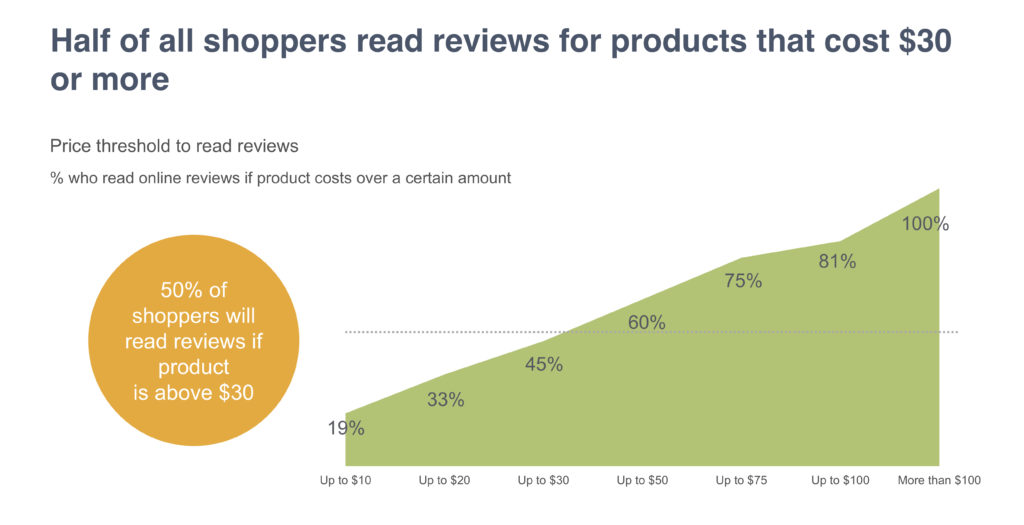 Price of the product also plays role in shopper motivation to read online reviews. A third of shoppers say they read reviews if the price is over a certain amount. Among these shoppers, there is a wide variation in the price threshold to read reviews with half of them reading review for products that cost more than $30.
A third of price conscious shoppers go online to read reviews when products are $20 or below. As expected, the figure starts growing as the price increases. The share of shoppers reading reviews increases to three in five (60%) when the price of the product climbs to $50. All shoppers turn to online reviews when products cost more than $100.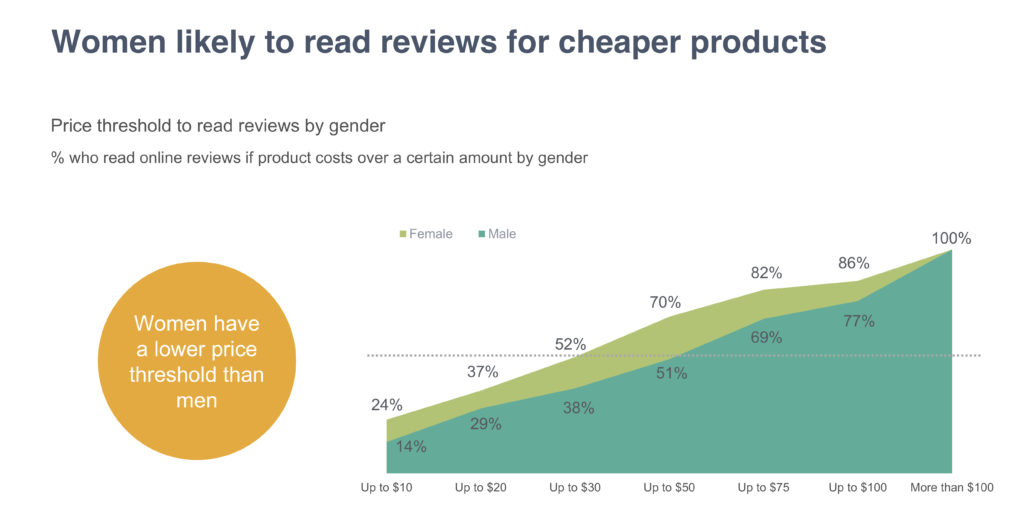 Men and women have different price thresholds that drive them to read reviews with women more likely to read reviews for cheaper products. Half of women read reviews for products that cost $30 or less while half of men read reviews for products that cost $50 or less.
The greater likelihood of women reading product reviews for cheaper products stems from the differences in role men and women are responsible to make purchase decisions in a household. While women make purchase decisions for categories that are bought regularly, men tend to be solely or jointly responsible for durables that are a long term investment and come with a bigger price tag.
*for additional details on sources and follow up information see our full report – The State Of Online Reviews Among U.S. Shoppers
Click here to read Part 1 of the series