#1 of 3: Shoppers read online reviews for social proof
Data Highlights
Nearly four in five (79%) shoppers read reviews to make sure the product is well liked by others as well
Over three in five (61%) shoppers read reviews to make sure the product will meet their needs/requirements
Just over half (53%) read reviews to make sure they do not make a decision they might regret later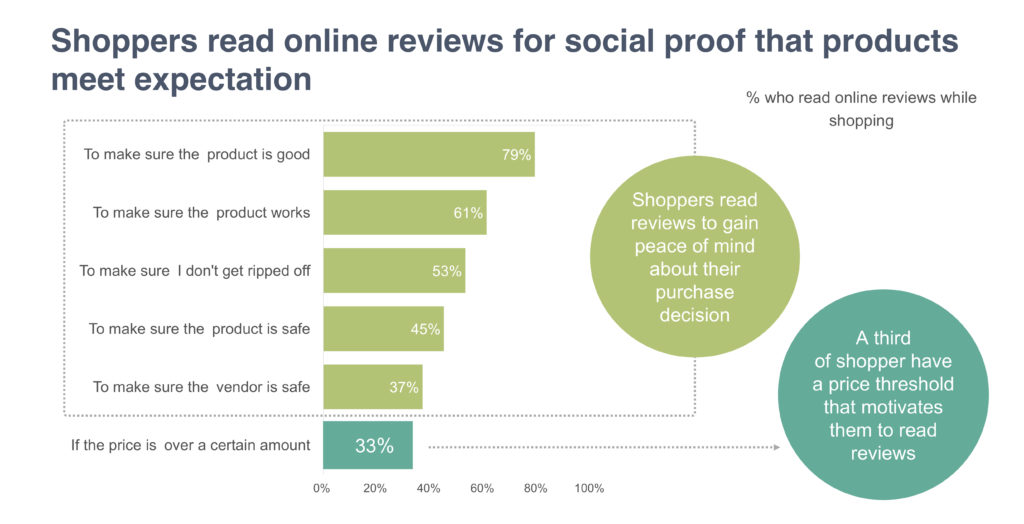 Shoppers read online reviews to get confirmation that they are making the right purchase decision. Nearly four in five (79%) shoppers read reviews to make sure the product is good i.e. confirmed as 'good' by other shoppers like them.
Online reviews help shoppers gain emotional and functional confirmation before purchase decision
The social proof that comes from shared experience of other shoppers is a powerful motivator towards making a final purchase decision. As such, online reviews, primarily function to allay emotions of concern and uncertainty shoppers have around products and brands. Shoppers are first and foremost scanning a product review to see that the brand or product is perceived positively by others.
After receiving positive emotional confirmation for the product, shoppers seek out practical information around product usage to make sure it does what they expect from it. Over three in five (61%) shoppers read reviews to make sure the product works.
This is the functional motivation where shoppers are not only looking for confirmation that the product functions well but also for tips and tricks into how they can potentially get more out of it. Such functional drivers in combination with emotional drivers put the shopper mind at ease and take them closer to making a purchase decision.
Finally, shoppers look for any red flags around the brand and product so that they do not have to regret the purchase decision later in case they missed a problem that was quite obvious. Just over half (53%) read reviews to make sure they don't get ripped off.
'Not getting ripped off' could be something price related along the lines of finding out where to get the cheapest price or a more valuable packaged deal. It could also be related to product quality such as finding out that a better option exists out there. For many shoppers, it could be  about safety concerns around the product (45%) and vendor (37%). They would like to ensure that they get the right product delivered and it doesn't pose a risk during usage.
*for additional details on sources and follow up information see our full report – The State Of Online Reviews Among U.S. Shoppers
Click here to read Part 2 of the series